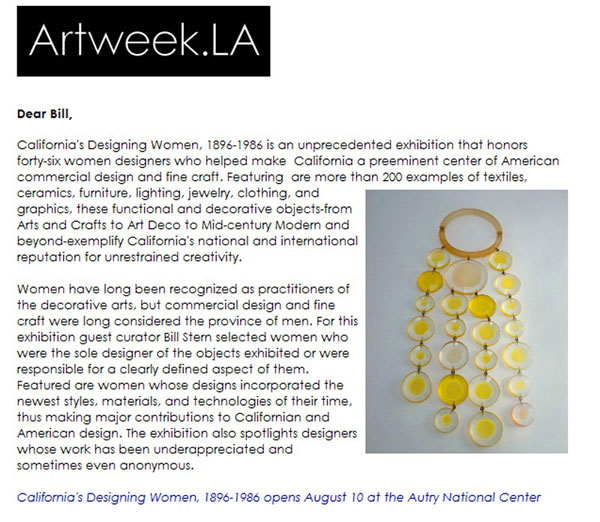 Departures, November/December 2011 Issue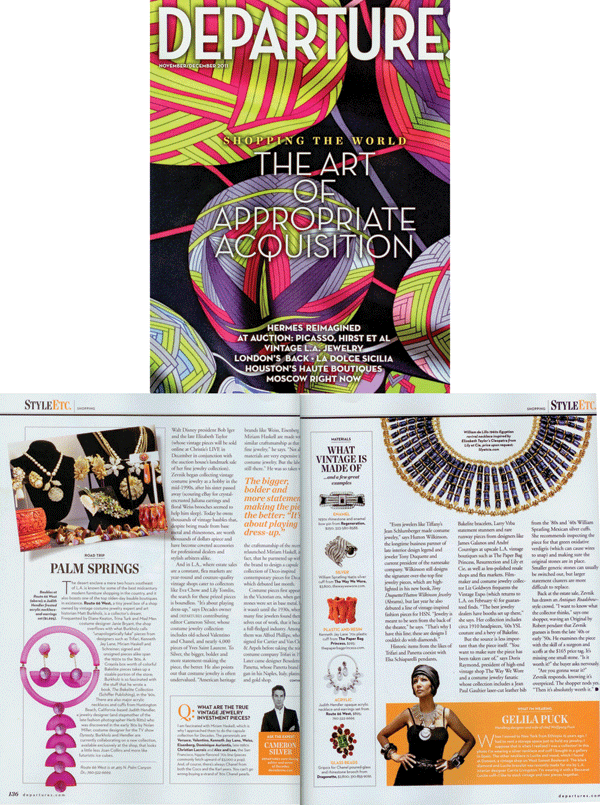 Modernism, Winter 2010-2011 Issue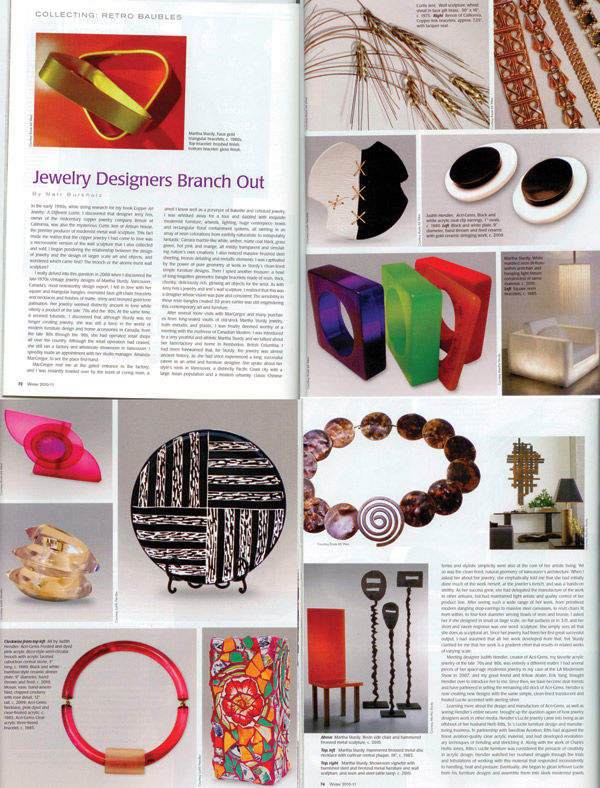 CJCI Magazine, Summer 2010 – Vol. 1, Issue 2
CJCI Exclusive Presentation:
Judith Hendler: Past, Present and Future
Discovering Hendler's Past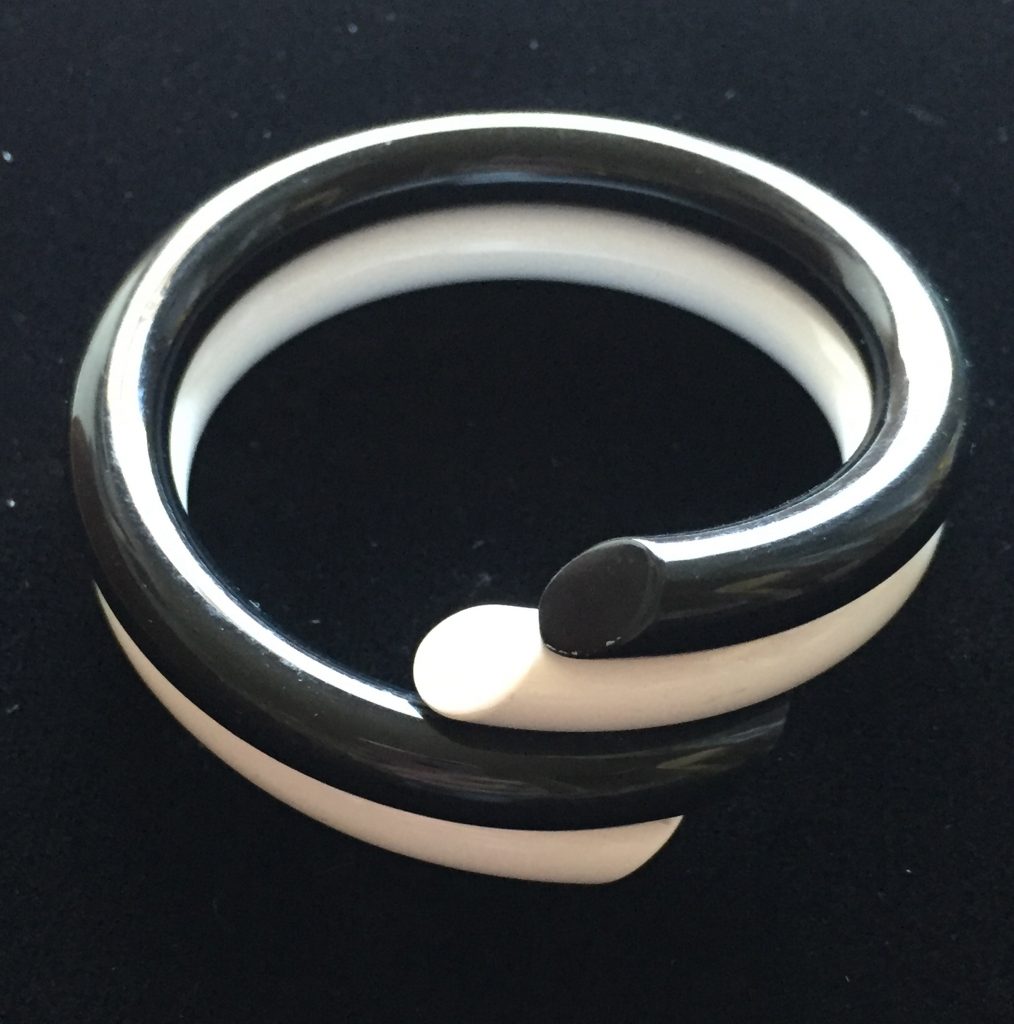 by Erik Yang
In my fledgling days as a vintage jewelry dealer, a friend and I came to Dallas to sell at my first official antiques show. The vendor across from us had a dizzying array of merchandise, but one piece caught my attention: an unsigned tubular clear necklace with a huge hot pink prism drop. I asked the vendor how much, and she replied "I bought that at Saks 10 years ago and I'd like to get back what I paid, $45." I scraped together what funds I had and scurried down the aisle with my new mystery jewel. It wasn't until a few years later when I found another piece with its original paper tag that I discovered the maker.
After years of admiring the work and showcasing it on my website, imagine my surprise when I a got a call from a puzzled lady inquiring where I had purchased the bold mink Lucite necklace on my home page. When I asked why she needed to know, she said "…because I made that necklace, I'm Judith Hendler!"
Over the years I've learned of many an artistic venture Judith's had in her career, none of which surprise me considering she was surrounded by creative people in her formative years. Her mother, an aspiring costumier, created avant-garde ensembles for Judith's aunt who was dancing at the time. Judith says "the designs rivaled Chanel," and the duo even attempted to open a design business. Unfortunately, the times were different for an aspiring female artist back then, something Judith would also encounter and later conquer.
CJCI Magazine, Summer 2010 – Vol. 1, Issue 2
CJCI Exclusive Presentation:
Judith Hendler: Past, Present and Future
Appreciating Hendler in the Present & Future
by Matt Burkholz
Erik and I both have loved Acri-Gems as vintage collectibles for more than 15 years. We are both drawn to these designs featuring Zen-like simplicity, space age sleek styling, and the brilliant translucent lucidity of high quality acrylic, glowingly geometric yet utterly elegant.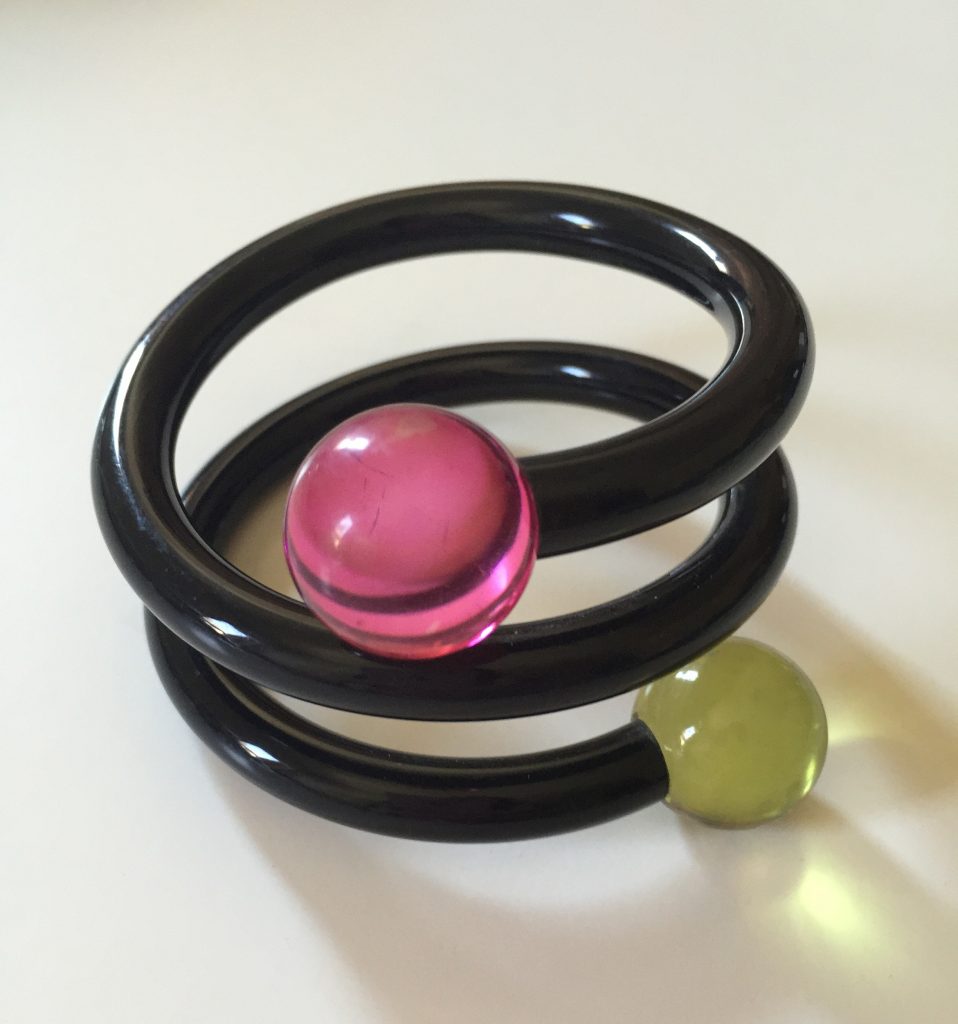 Upon meeting Judith, Erik and I both found a kindred artistic spirit and friend, and commenced, each on an individual basis, to evolve professional relationships which allow for lots of give and take in the selling of these wonderful vintage jewels on the secondary market. Reopening my longtime business, reborn as Route 66 West, I hosted a store event zanily titled: Plastica Luxuria: Tangible Testament to the Utter Opulence of Man-made Material. At this cocktail party and exhibition, a large selection of vintage Acri-Gems was presented to a wildly enthusiastic clientele hungry for fresh, contemporary-yet-vintage designs.
Judith attended personally, as did 50 to 75 other Palm Springs fashionistas and collectors who thoroughly enjoyed the desert night air and talking with the artist one on one as they watched her etch her signature onto neckrings of vintage pieces which previously bore a tag rather than a permanent marking. Everyone felt they were on the wave of an exciting new retro style from the early '80s being recapitulated in the 21st century.